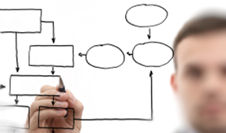 Business Process Management (BPM) is an evolution of business process engineering and workflow management. However, BPM does not look at individual processes to improve their efficiency, but rather looks at the whole organisation and the interconnected processes; To improve the whole.

BPM is a business strategy. It is about challenging yourselves, with our expert help, to look at how and why you do what you do as an organisation. Once BPM has been adopted as a strategy you will find better, smarter ways of working; you may even kill a few "sacred cows" along the way. You will begin to see real benefits emerging in a short period of time.

BPM is all about being creative with what you already have, finding innovative ways of working to ensure you maximise resources and opportunities. A BPM strategy creates a lean adaptable and agile organisation, in short BPM is a business transformation frame-work that once adopted will allow your business to evolve beyond current limitations.

ALthough you do not have to make large investments in technology to be successful and to create a lean and agile business, technology will play its part; the alignment of your technology to a BPM strategy will create a dynamic, enabled business. You can enhance your existing systems, or replace them if need be; as a technology BPM will allow you to do both and to create business appications that are entirely fit for purpose.

Our BPM specialists can help in all aspects of your journey; from the formation, adoption and implementation of the strategy, identifying the first projects to desiging and implementing new Orchestrating business applicatons

Please visit our sister site for full details of our BPM expertise.